ASSOCIATED PROJECTS
1. Bal Bharti Public School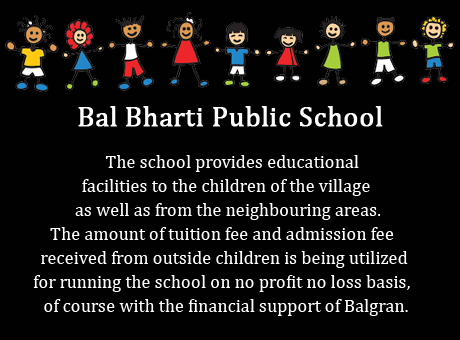 A Unit of BALGRAN, is run by the management of the Balgran and is located within the premises of the home and was setup by the management in April 2000. The school is recognized by The J&K board of secondary education up to class 10th. The efforts are being made to upgrade the school up to 12th class, so as the girl inmate can also continue further studies from Bal Bharti public School, Balgran.

The school consists of a full fledged three storied building having sixteen (16) class rooms, and two Examination Halls. Besides, school has fully equipped Science laboratory, Computer centre, Library and play grounds. The school provides educational facilities to the inmates of the home as well as children from the neighboring areas. The present, strength of school is 205 students including 114 inmates of BALGRAN.

The school has a highly qualified teaching staff. Mrs. Rama Malhotra and Mrs. Urmil Arora are rendering honorary services as Director and Principal of the school respectively. Besides, Mrs. Sadhna Kachroo, as Vice Principal & Mrs. Neelam Arora as teacher are also rendering honorary service to the school.


Result of the school during 2019 - 20:
The school has shown 100 % result in 8th and 10th, District Board Examination and J&K Board of Secondary Education examination-2020, respectively. The detailed result is shown below:
Class 8th
| | | |
| --- | --- | --- |
| S.No. | Name | Grade |
| 1 | Aditi | A1 |
| 2 | Akanksha Bharti | A1 |
| 3 | Sheetal Devi | A1 |
| 4 | Meenakshi Sharma | A1 |
| 5 | Suman Devi | A1 |
| 6 | Shikhil Sharma | A1 |
| 7 | Gurcharan Singh | A |
| 8 | Ajay Sharma | A |
| 9 | Ajay Kumari | A |
| 10 | Satish Kumar | A1 |
| 11 | Iqbal Chowdhary | A |
| 12 | Eklavya Singh | C1 |
Class 10th
| | | |
| --- | --- | --- |
| S.No. | Name | Grade |
| 1 | Neha Kumari | A2 |
| 2 | Tisha Devi | A2 |
| 3 | Geeta Thakar | B1 |
| 4 | Beera Devi | A1 |
| 5 | Nikhil Sharma | A1 |
| 6 | Vikram Singh | C1 |
| 7 | Ankush Sharma | A2 |
Nursery wing:
The school has a nursery /kindergarten wing too. This is well equipped with learning and playing tools for the children below 5 years of age. They are being taken care by trained and young teaching staff.
Governor's Scholarship:
Three students, each from 5th, 8th & 10th class, rankings 1st, 2nd & 3rd are awarded scholarships out of corpus donation by Hon'ble Governor J&K.
Following is list students selected for award of Governor's scholarships, for the year 2019-20
| | | | | |
| --- | --- | --- | --- | --- |
| S.No. | Class | Name | Marks obtained in Percentage | Rank |
| 1 | 10th Class | Nikhil Sharma | 91 | 1 |
| 2 | 10th Class | Beera Devi | 90 | 2 |
| 3 | 10th Class | Neha Kumari | 89.2 | 3 |
| 4 | 8th Class | Suman Devi | 99 | 1 |
| 5 | 8th Class | Akanksha Bharti | 98.5 | 2 |
| 6 | 8th Class | Sheetal | 98.5 | 2 |
| 7 | 8th Class | Shikhil Sharma | 97 | 3 |
| 8 | 5th Class | Pinki Devi | 91 | 1 |
| 9 | 5th Class | Shobit Gargotra | 88 | 2 |
| 10 | 5th Class | Zubair Ahmad | 80.1 | 3 |
Smart Classes:
The school has three Smart Classes. Smart class is an effective and modern way of teaching. It is a unique and latest way to teach children. In this technique, a broad screen is there on the wall (like blackboard) and a projector is fixed on the roof so as its rays reflect upon the screen. This technique works like a computer screen and also like a blackboard. It helps the teachers to access multimedia content and information, which can be used for teaching students more effectively. It gives tools and other contents for students learning using latest media presentations. It can also be used for online teaching.
Uninterrupted power supply:
A 5 KVA DG Set is dedicated to Bal Bharti Public School for uninterrupted power supply to school. It helps to supply uninterrupted power supply to Smart Classes, Science laboratory, Computer room etc.
Educational tours and Picnics:
Educational tour for senior inmates and picnic for juniors are arranged every year for their outside exposure and change from routine activities. The students were taken to water filtration plant Sheetli, Jammu and Historical ancient temple, Karimchi, Udhampur.
Potable Water Supply:
All Water coolers available in the school are attached with aqua guards for potable drinking water supply.
Educational Coaching:
Balgran is providing extra coaching to inmates in the evening after school hours.
CLC Tutorial, Gandhi Nagar, Jammu and
Mastermind, Trikuta Nagar, Jammu are of great help to the Home.
2. BALGRAN Charitable Trust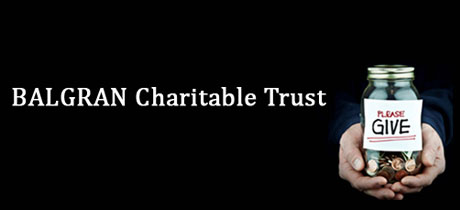 The Balgran Charitable Trust was established in the year 1999 with five trustees who are Life Members of Balgran.
President of Balgran is ex- offcio chairman of the Trust.
Besides the Chairman, it has one Treasurer, one Member Secretary and two Members from the Life Members of the Balgran as trustees.
Following are the trustees:
1. Sh. A K Khajuria, President
2. Sh. A K Arora, Member Secretary
3. Sh. Mohit Viz, Treasurer
4. Sh. Veigsh Chander Sharma, Member
5. Dr. Anita Baru, Member


3. Children Health Centre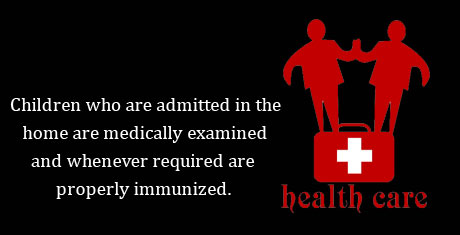 The children Health Centre is housed in a separate building with a three bedded isolation ward and is functioning smoothly. The centre is provided with necessary medicines and medical equipments. It is also catering to the outside patients of the area


A child specialist, Dr. Neelam Kohli, Deputy Director Health (Retd.) has been rendering free service during evening hours. Dr. Rakesh Khajuria Director Health & Family Planning (Retd.) is also rendering free service during morning hours. Children who are admitted in the home are medically examined and whenever required are properly immunized.


Outside patients are examined and sample medicines if available in surplus are provided.


A Dental Section on 1st floor of Health Centre has been set up. It is equipped with dental chair, X-ray and other allied accessories Dr. Vishali Sambyal has been engaged for Dental Clinic. Consumables required for various dental procedures are purchased from the market. It caters for our inmates and outside patients are also provided dental treatment at subsidized rates.
4. Vocational Education Centre

Cutting & Tailoring and Embroidery centre is functional Sr. Girl inmates stitch their own clothes. Repair of clothes is also carried out in the centre. The inmates make various items such as bags, handkerchiefs aprons, sofa covers, woolen socks etc . These are exhibited on different occasions for sale.





6. HEALTH CLUB

The Health Club is furnished with state of art GYM equipment for the inmates of Balgran. The facility of Heath club has also been extended to members of Balgran and their families.
7. LIBRARY

In addition to school a separate reading room cum Library duly equipped and furnished is provided to the inmates for use during evening as well as on holidays. A good number of books on various subjects relevant to the age group are available in the library.
8. INDOOR SPORTS/ RECREATION FACILITIES

Indoor sports/recreational facilities have been provided to the inmates. A separate recreation room with carom boards and chess is available for girls along with a TV room.
A separate recreation room equipped with two table tennis tables, carom boards and chess has been provided for Boys along with a TV room.
Other Activities:
Foundation day:
Balgran, first time, celebrated its 44th foundation day on 3rd of Sept., the day it was founded in 1975. Mr Farooq Khan, Advisor to Govt. of J&K was the Chief Guest. A good number of old inmates participated in the function
SECURITY CONCERNS
In order to keep strict vigil on the various activities of the inmates, the staff members as well as general public visiting BALGRAN, CCTV cameras with recording facility have been installed. Two LCD TV's have been installed in the Manager room & the Hony. Secretary office for monitoring purpose. Even the output of all the CCTV'S is being watched on the authorized mobile.
EDUCATIONAL TOURS & PICNIC
Educational tour for senior inmates and picnic for juniors are arranged every year for their outside exposure and change from routine activities.
HONORING ESTEEMED DONORS AND MEMBERS OF BALGRAN
BALGRAN honours its esteemed donors and distinguished members every year on Independence and Republic Days for their selfless/ exemplary services rendered to the organization.
BALGRAN honored following Donors on Republic Day 2020.
| | |
| --- | --- |
| S.No. | Name |
| 1 | Sh. Arun Gupta, M/s Print and Copy world, Jammu |
| 2 | Smt. Vijay Kohli, R/o Trikuta Nagar, Jammu |
| 3 | Sh. Ratan Lal Gupta, President Traders Federation, Jammu |